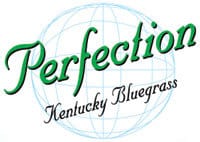 The Best Bluegrass for Lower Maintenance
"Top Rated" In all 4 of the Maintenance Schedules and in 5 of the 6 Regions in the 2003 National Trials!
Irrigated, Not Irrigated, less than 1 inch to 3 inches mowing height . . . this new" Aggressive Type" Kentucky Bluegrass offers Top Rated Performance with whatever maintenance regime you prefer.
Perfection exhibits one of the shortest growth habits available, a fine leaf texture, is very wear tolerant and has excellent turf density. It has one of the darkest Genetic Color ratings, and has excellent Shear Strength/ Traction Ratings.
Disease Resistance is superb. Perfection had either the top rating or had no difference from the Top Rated entry in 12 of the 14 disease trials in the 2003 NTEP.
Perfection is the ideal addition to your Bluegrass blend or cool-season turf mix.